Some dogs act like bottomless pits; they just eat and eat with no sign of stopping unless you take their bowl away. Others are more dainty with their diets, picking at their food happily throughout the day. It's safe to say that each dog is different; this extends to their diet, too.
But here's the question – how much should you feed your dog? Of course, different brands, including Lily's Kitchen, have their own guidelines on the quantity to give a dog. Most adult dogs are fed twice a day, depending on the serving size, with puppies requiring three or more feedings due to their smaller size. This can also vary depending on the type of dog food given, whether it is wet or dry.
To easily outline the quantity each dog requires when eating Lily's Kitchen dog food, this post will be split to cover dry dog food and wet dog food. Within these categories, the different life stages of dogs – puppy, adult dog, and senior dog – will also be assessed. During each stage of life, dogs' eating requirements change, so it is best to research and understand their needs at all stages of life.
First off, let's get to know this specific brand of dog food.
What is Lily's Kitchen Dog Food?
Lily's Kitchen is an ethical pet food company that aims to create natural, nutritious, and delicious recipes. The company prides itself on serving dog meals with no artificial additives or meat meal, which sets it apart from some other brands in the industry.
Several of the brand's values stem from a passion for pet health and happiness. This has been at the forefront from the very beginning; a dog owner wanted to provide her dog – Lily – with the best available food and created this brand in doing so.
Not only does Lily's Kitchen want to provide dogs with natural goodness, but the brand works to be environmentally cautious, too. The Lily's Kitchen website states "…from eco packaging to organic ingredients – we try to tread carefully on the planet our pets love so much."
There is also a range of dry and wet recipes tailored to different dogs' needs. This includes grain-free recipes for those who are sensitive to grains and those on a hypoallergenic diet, as well as recipes for puppies, adults, and seniors. For other grain-free food options for dogs, click here.
Dry Food
Many dog owners prefer feeding their pets dry food as it is convenient, provides a balanced daily diet, and can help with dental care. Kibble is often easily stored in bags or boxes, and it is crunchy and less likely than wet food to stick to dogs' teeth.
For the more environmentally conscious, dry food might also be the better option. Smaller portion sizes are recommended with dry food as it has high energy content, which means the food will be bought less frequently and less packaging used.
Lily's Kitchen has a range of dry dog food on offer. These complete food products provide dogs with the essential nutrients needed to maintain an active and healthy life.
Some varieties of this brand include:
Beef
Lamb
Duck, Salmon, and Venison
Chicken and Duck
Chicken and Salmon
Chicken and Vegetables
Turkey and Trout
Salmon
As previously mentioned, dog food is available in the different life stages a dog goes through.
How Much Lily's Kitchen Dry Food to Feed a Puppy
The nutritional needs of a puppy are rather different from an adult dog as their bodies will be growing and developing for the first year of life or longer. Ideally, puppies should be fed to encourage optimal growth, which means they neither grow too slowly nor too fast; the correct nutrition can help with this.
The Puppy Recipe with Chicken and Salmon is suitable for puppies aged from 8 weeks to 8 months. However, some breeds will be best suited to puppy food until they are around 14 months old; this is because all breeds become fully grown at different ages.
Lily's Kitchen Chicken and Salmon for puppies contains fresh chicken (27%), freshly prepared salmon (10%), and chicken liver (7%), as well as sweet potato, pea protein, potato protein, salmon oil, milk thistle, and nettles. In most Lily's Kitchen products, there is also a joint support mix and prebiotics to support good health.
For the ideal portions your dog should receive, you can look at the back of the packaging or use the tool available here. The feeding guide for this particular puppy food is listed below:
Puppies weighing between 1kg and 5kg:
2 – 4 months old: 55g – 185g
5 – 8 months old: 45g – 155g
9 – 12 months old: 35g – 125g
Puppies weighing between 6kg and 10kg:
2 – 4 months old: 210g – 310g
5 – 8 months old: 175g – 260g
9 – 12 months old: 140g – 205g
Puppies weighing between 11kg and 15kg:
2 – 4 months old: 335g – 420g
5 – 8 months old: 280g – 350g
9 – 12 months old: 225g – 280g
It is recommended that the daily portion size is split between three or four servings throughout the day.
How Much Lily's Kitchen Dry Food to Feed an Adult Dog
Adult dogs may be fully grown, but they still require the proper nutrition to maintain good health and an active lifestyle. They require a well-balanced diet of minerals and vitamins with essential amino acids from proteins and essential fatty acids from fats; the amounts each dog needs will vary throughout their lives.
One product that supplies these essential aspects is the Salmon Supper with Sweet Potatoes, Peas, and Dill. The packaging promotes both grain-free and proper fish labels, which is great for dogs with cereal intolerances as well as providing nutrients from real ingredients.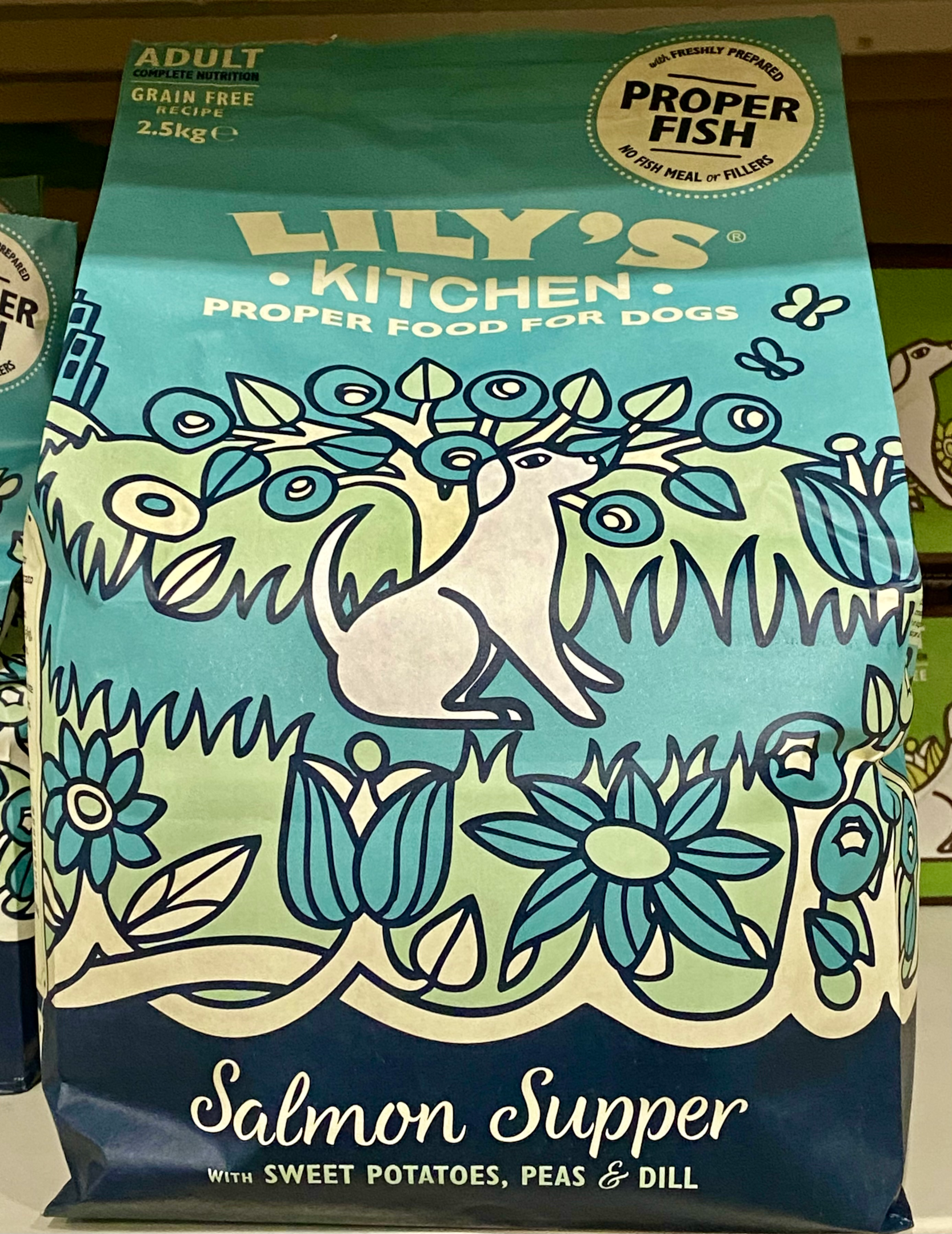 Some of the ingredients in this dog food include freshly prepared salmon (40%), sweet potatoes (13.5%), potatoes (11.5%), cranberries, apples, seaweed, and dandelion root. The nutritional additives include vitamins A, D3, and E, as well as many others.
A dog should be fed the proper serving size, depending on their weight in kilograms, is shown below in grams:
1kg – 5kg: 30g – 90g
6kg – 10kg: 100g – 145g
11kg – 15kg: 155g – 200g
16kg – 25kg: 210g – 290g
26kg – 35kg: 300g – 375g
How Much Lily's Kitchen Dry Food to Feed a Senior Dog
An older dog will be less active, which is often caused by a decline in health and stamina. This means their ideal diet will consist of fewer calories, more fibre, and an adequate protein and fat percentage. There are a number of meals available for senior dogs that provide the required nutrients.
One of the dry food products available for older dogs aged 8+ is the Senior Recipe with Turkey and Trout.
In this senior dog food, there is turkey (17%), trout (13%), seasonal white fish (13%), egg, fish gravy, botanical herbs, and ginger.
The daily feeding guide for this food is:
1kg – 5kg: 30g – 90g
6kg – 10kg: 105g – 150g
11kg – 15kg: 165g – 210g
16kg – 25kg: 220g – 300g
26kg – 35kg: 315g – 390g
However, for overweight dogs, the serving size should be cut by 10%. For any advice on the ideal weight or dieting, contact a vet.
The Senior Recipe is a nutritionally complete recipe for older dogs with all the essential vitamins and minerals to ensure dogs stay well. It also helps healthy digestion.
Wet Food
For some dog owners, wet food is a better option when feeding their pets. One reason for this could be that dogs are much more interested in wet food than dry food; it smells better to dogs, and therefore it tastes better.
Wet food also has lower energy content per serving, which means dogs can eat much more of it without exceeding their ideal calorie intake. This might be the better option for dogs that need to lose weight, especially if overeating is the issue.
It is also a great way for dogs to get additional hydration in their diet; if your dog doesn't drink a lot of water, then providing a wet food meal might be a good choice.
How Much Lily's Kitchen Wet Food to Feed a Puppy
Wet dog food for puppies is a great way to wean successfully as it is appetising to their senses while providing the necessary nutrients. One wet food product for pups is the Puppy Recipe with Turkey, Duck, and Kale.
Some ingredients included in this food are freshly prepared duck (20%) and turkey (41%), pumpkin, kale, potatoes, and carrots.
Similar to dry foods, the feeding guidelines for puppies depend on both the individual puppy's weight and age. For this product, the feeding guide is as follows:
Puppies weighing between 1kg and 5kg:
2 – 4 months old: 200g – 660g
4 – 6 months old: 165g – 550g
6 – 12 months old: 130g – 440g
Puppies weighing between 6kg and 10kg:
2 – 4 months old: 760g – 1115g
4 – 6 months old: 630g – 930g
6 – 12 months old: 505g – 745g
Puppies weighing between 11kg and 15kg:
2 – 4 months old: 1200g – 1510g
4 – 6 months old: 1000g – 1260g
6 – 12 months old: 1000g – 1260g
How Much Lily's Kitchen Wet Food to Feed an Adult Dog
One variety of wet food for adult dogs is the Lamb Hotpot variety. This dog food consists of freshly prepared lamb (60%), potatoes (3%), squash (2%), blueberries, broccoli, and more.
The daily feeding guidelines are shown below as well as the corresponding dog size:
1kg – 5kg: 90g – 300g
6kg – 10kg: 350g – 515g
11kg – 15kg: 555g – 700g
16kg – 25kg: 730g – 1025g
It should be noted that, just like with any food product, the serving size may vary with the dog's age, breed, and activity level.
How Much Lily's Kitchen Wet Food to Feed a Senior Dog
For older dogs, the Senior Recipe with Turkey, Cranberries, and Parsnips variety is a fantastic source of nutrition. The ingredients, such as freshly prepared turkey (60%), cranberries (4%), parsnips (3%), carrots, and sugar snap peas, ensure a proper vitamin intake.
The guidelines of what portions a dog should be fed are listed below:
1kg – 5kg: 90g – 300g
6kg – 10kg: 350g – 515g
11kg – 15kg: 555g – 700g
16kg – 25kg: 730g – 1025g
With senior dogs, monitoring their weight and their diet is very important as their health can deteriorate seemingly out of the blue. For this reason, it is often a good idea to consult with your vet to ensure your dog stays healthy and fit.
To Sum Up
When it comes to feeding your dog, one of the most important things you can do is research and understand the needs of your pet. Different dogs have different nutrient requirements, and these can change as they grow and age.
With Lily's Kitchen, there is a range of both wet and dry food available, catering to the three main life stages a dog goes through. Feeding guides for each recipe are available on the back of the product's packaging or on the website, so you can be sure your dog is eating the right portion amount.